Civil War Journals of Franklin Archibald Dick
ISBN # 9781931112741
250 pages, hardback
$34.95
Troubled State is the recently discovered Civil War journals of Franklin Archibald Dick, a prominent St. Louis attorney, who acted as an adviser for Lincoln, Grant, Lyon, Blair, and other important political figures at that time. From an insider's point of view, he described the Civil War as a loyal Unionist in the politically torn city of St. Louis. More importantly, Franklin Dick's Civil War journals uncover first hand accounts of historically pivotal moments during the war, such as the Camp Jackson incident, where he acted as Captain Nathaniel Lyon's Assistant Adjutant General. Franklin Dick's Civil War journals also add great details to the known literature on the Civil War in Missouri, a barely pro-Union border state during those turbulent years. Brother-in-law to Frank Blair, Franklin Dick served as Missouri Provost Marshal General under Major General Samuel Curtis in 1862. After the war, he practiced law in Washington with Montgomery Blair, Lincoln's Postmaster General.
These Civil War journals contain my great-great-grandfather's outspoken views on the Civil War, the country, the state of Missouri, leaders he knew, politics, daily life, concerns about morality, inner thoughts, and private worries. His entries changed from early optimism to later doubts about his future due to pressures from his loyalty to the Union and war issues. He felt he was a tree in a movable vessel and feared returning to the turmoil in St. Louis, as he mourned the loss of his years of work in Missouri. Franklin Dick's unique record of American life during the Civil War reminds us that we are what we were, and gives us an irreplaceable new perspective on the impact of history in our lives.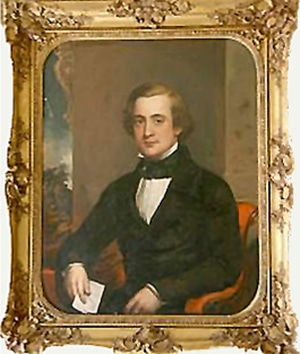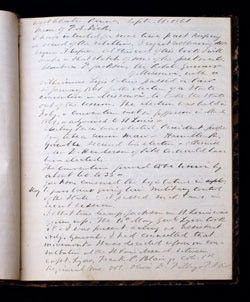 ---
Press and Reviews
Kansas History Review
Troubled State: Civil War Journals of Franklin Archibald Dick
Edited by Gari Carter
xxxii + 279 pages, illustrations, notes, bibliography, index.
Kirksville, MO.: Truman State University Press, 20008, cloth $34.95.
In the 1960s editor Gari Carter's mother gave her the Civil War journals written by Carter's great-great grandfather, Franklin Archibald Dick. Carter's newly edited volume, Troubled State, includes two journals covering the periods from September 1861 through April 1862 and September 1864 through July 1865. Regrettably the intervening journals are missing, but Dick's letters fill in most of that time period.
Read More
A native of Philadelphia, Pennsylvania, Dick moved to St. Louis, Missouri, in 1842 and began practicing law there. In 1851 he married Myra Madison Alexander, a sister-in-law of Francis Preston, Jr., "Frank" Blair's. Well-educated and connected to the politically powerful Blair family, Dick's journals provide an interesting look at a civilian's life during the war, convey a sense of the psychological impact of the conflict, and are interspersed with much reflection on war news, religion, and finances.
Dick resided in the Philadelphia area during the beginning and ending stages of the war, and the majority of his surviving journals detail that phase of his life. Although his first entries were written in the Philadelphia area, Dick reflected back on life in politically divided St. Louis in early 1861. Dick vividly detailed his friendship with Brigadier General Nathaniel Lyon, the riot at Camp Jackson, and the meetings of pro-Union supporters in Dick's law office. Upon his return to Philadelphia, Dick invested in a cartridge-making factory along with a brother-in-law. Problems with this endeavor frequently troubled him, and the venture ended in tragedy when the factory exploded in March 1862 and several workers died.
Back in St. Louis, Dick engaged in strenuous and stressful attempts to maintain Missouri's loyalty to the Union. His surviving journals detail some of his work on the Board of Assessors in St. Louis. As the editor ably describes it the "board's purpose was to raise money for the Western Sanitary Commission to support civilian refugees in St. Louis. Southern sympathizers who did not voluntarily donate money to the commission were required to pay an assessment based on the value of their property and the degree of their disloyalty…" (p. 87). In November 1862, Major General Samuel R. Curtis appointed Dick provost marshal general for the Department of Missouri, a position in which he served until May 1863. As provost marshal general, Dick served as overseer of military prisons in the department, dealt with suspected spies and others who were disloyal, and had authority to banish individuals. Again, he served in a position that infuriated Southern sympathizers but won him praise from Unionists. Dick's letters from this time convery the challenges of life in that "troubled state", Missouri. As a useful corrective to prevailing views of Abraham Lincoln, it is interesting to note that although Dick respected Lincoln, he felt Lincoln treated Southerners much too leniently.
In the journal covering the latter part of the war, Dick spent much time considering whether to move back to St. Louis. It is apparent from this portion of his journal that his work in St. Louis had caused some type of psychological trauma leading to great indecisiveness and a desire for vengeance on Southerners. The title of the book also serves as a useful description of Dick's mindset during this part of the war.
The editor has done a good job of identifying individuals written about by Dick and placing his journals and letters in context, although this reviewer desired more information about the explosion at the cartridge-making factory. A helpful chronology of war events is included at the beginning of each chapter, and there are two appendices: one includes short biographical sketches of military leaders and family members and the other is a genealogy of Dick's family. Dick's writings are an unusual addition to Civil War literature, valuable for their portrayal of how the war impacted one man in a politically divided border state.
Reviewed by M. Jane Johansson, associate professor, Rogers State University, Claremore, Oklahoma.
---
Saint Louis Today
Troubled State By Martin Northway SPECIAL TO THE POST-DISPATCH 06/22/2008
Franklin Dick, a Philadelphia-born, two-decade resident of St. Louis, occupied a unique vantage from which to witness the onset of hostilities in the Civil War. He played a key role, for example, in capturing Southern sympathizers at Camp Jackson and saw the escorting Union German Home Guards open fire on a hostile mob.
Read More
His eyewitness description of Capt. (soon to be Gen.) Nathaniel Lyon's "tremulous," emotional reaction to civilian victims counters the image of Lyon as a hard-bitten, calculating career officer.
Gari Carter, the great-great-granddaughter of Franklin Dick and custodian of his wartime journals, has painstakingly transcribed and annotated them into a vivid, accessible, often surprising first-person account of the war in Missouri.
"Troubled State: Civil War Journals of Franklin Archibald Dick" encompasses the fears and passions of a partisan, committed Union man.
These pages reflect whiplash pessimism and optimism about the Union war effort. He was an early critic of President Abraham Lincoln's "cowardly" war leadership, including support of Gen. John C. Fremont.
"(W)ith Fremont I fear the Rebels may get full possession of the State, even of St. Louis," Dick writes.
The law partner and brother-in-law of Francis P. Blair Jr., he also experienced the metamorphosis of that remarkable political and military leader. And Dick was sufficiently anxious about his family's well-being in those desperate times to invest in a cartridge factory, whose workers were victims of its own success when it exploded.
During 1862-63, Dick was provost marshal general of the Union Army's Department of the Missouri. In effect, he was the ruling military judicial authority while the state was under martial law and, though an efficient administrator, advocated harsh justice for "traitors" and Confederate sympathizers.
"St. Louis is the seat and centre of the rebel plots & schemes, and spies revel here," he warned in 1863.
A critic of Lincoln to the end, he even found a silver lining in the assassination of this "good" but, to his mind, weak man. Lincoln's "mawkish sensibility nauseated the Southern heart," he writes. "And yet, he was the very bulwark of safety to them."
"I left Missouri because the President would not allow the defenders of the country to strike down their enemies. As soon as we had disarmed the Enemy, the President stepped in & disarmed us. … Now I want Mr. (former Vice President Andrew) Johnson to deal with these Rebels, as only the Border State Union Man knows how to do."
Under Missouri's draconian Drake Constitution, radical Republicans did exact some revenge against their former enemies. It was not until Union men more broad-minded than Franklin Dick stepped up critically, among them, his brother-in-law Frank Blair — that Missouri began to heal its wounds.
Martin Northway is a writer and regional historian in Callaway County, Mo.
---
By Midwest Book Review (Oregon, WI USA)
June 9, 2008
Troubled State: Civil War Journals of Franklin Archibald Dick is a collection of private journals written by Franklin Archibald Dick, a St. Louis attorney, Union officer, and provost marshal general. Assiduously assembled by Franklin Dick's great-great-granddaughter Gari Carter, Troubled State offers a firsthand view of historical events such as the early Camp Jackson incident (during which he was Captain Lyon's assistant adjutant general). Dick was concerned about the slow progression and horrendous cost of the civil war; witnessing the divided city of St. Louis broke his heart, and journals reflect his progression from optimism to grave doubts about the future. Thoughtfully annotated and supplemented with brief biographies as well as a family genealogy and bibliography, Troubled State is a welcome addition to Civil War primary source shelves.
---
Mountain Express News
Book Report: Two local authors base their books on family history
by Alli Marshall on 05/15/2008
Read More
Troubled State
A family history-based book that does draw from actual fact is Black Mountain-based author Gari Carter's Troubled State: Civil War Journals of Franklin Archibald Dick (Truman State University Press, 2008). The text is culled from the journals of Carter's great-great-grandfather, a prominent St. Louis attorney and Assistant Adjutant General to Captain Nathaniel Lyon.
Dick, it turns out, was loyal to the Union in the midst of politically-tirn St. Louis, and his journals demonstrate his own misgivings about the war and concerns as to his own future. It's an intriguing premise for a book, but worth noting that readers without more than a passing interest in battles and Civil War history will find Troubled to be a dense and fairly dry read. The 205 pages of journal entries are packed with footnotes — often four to a page — and are followed by detailed biographies and a genealogy of the Dick Family.
But there are rare gems tucked into the pages: Images of Dick's letters to military personnel, a letter from President Abraham Lincoln himself, and Dick's of-the-moment perspective on momentous events. "Mr. Lincoln, the President, was assassinated last evng. in Washington …" he writes. "Here and now is the life of the Nation struck at by this vile rebellion. Mr. Lincoln throughout has failed to appreciate the wickedness of these people — pardons & pardons have fallen from him into the hands of guilty doers — who have turned again from their pardoned crimes, to again slay & destroy the defenders of Nation."
Such weighty insights are an important contribution to the unfolding of American history, and Troubled, though scholarly and challenging, provides a keen look back in time.
Gari Carter reads from Troubled State at Malaprop's on Wednesday, May 21. The event begins at 7 p.m.
— Alli Marshall, A&E reporter
---
Black Mountain News –
---
---
Citizen-Times
5/18/08– Author crafts book from ancestor's diary
Read More
From 5/15/08 Author crafts book from ancestor's diary. BLACK MOUNTAIN'S, Gari Carter's discovery of her great-grandfather Franklin Dick's diary led her to write a book, Troubled State, The Civil War Journals of Franklin Archibald Dick (Truman State University Press, 2008). From firsthand account of Dick's experiences as Missouri assistant adjutant general and provost marshal general, Carter crafted a story of St. Louis' divided and violent history during the Civil War. Dick, an ardent supporter of the Union, was frequently troubled by the slow progress and terrible cost of the war. For him, the divided city of St. Louis presented a test of personal strength. Carter, who makes her home in Black Mountain, will sign the book 1-3 p.m. today at Barnes & Noble and at 7 p.m. Wednesday at Malaprop's Bookstore/Cafe. For more information, visit garicarter.com

---
Herald Tribune Article 3/23/08 –
Author transcribes ancestor's journals
By Susan L. Rife
Read More
Published Sunday, March 23, 2008 at 4:30 a.m.
Last updated Sunday, March 23, 2008 at 3:57 a.m.
Ten years of squinting at faded Spencerian script in two old journals and countless hours of research by the great-great-granddaughter of Missouri's provost marshal general have yielded a new addition to the source material for Civil War scholars.
"Troubled State: Civil War Journals of Franklin Archibald Dick" (Truman State University Press, $34.95) by Gari Carter is drawn from 2 of 10 journals Dick kept as the United States was going through the upheaval of the Civil War.
Heavily annotated, the book is designed to appeal to Civil War scholars and amateurs alike.
The two journals, one leather-bound and the other a school copybook, were handed down to Carter, an only child, by her mother in the 1960s. They had been stored wrapped in tissue paper in a department-store gift box. The only other artifacts of Dick's service were a campaign chest and two swords of uncertain provenance, and another set of journals from an ancestor on another branch of the family tree.
Carter, who lives in North Carolina and spends part of her winters in Sarasota, kept the journals for years as bits of family history. It wasn't until after she finished her first book, "Healing Myself," an account of her recovery from an automobile accident that left her critically injured and her face in ruins, that she began to look more closely at the journals.
She began to research the family genealogy and to painstakingly transcribe the journals.
"They actually were in surprisingly good condition," she said. "The pages were a little yellowed. The hardest part was reading his handwriting and getting used to the way he wrote."
Dick was born in 1824 in Philadelphia and established a law practice in the frontier town of St. Louis, Mo., in 1842. Missouri had entered the Union as a slave state in 1821 after the Missouri Compromise, "which allowed slavery in Missouri, but prohibited slavery from then on in territories north of Missouri's southern border," Carter writes in the introduction to "Troubled State." The Kansas-Nebraska Act in 1854, which repealed that prohibition, inflamed the simmering tensions along the border.
Franklin Dick became law partners with Frank Blair, whose brother was mayor of St. Louis. The two helped organize the Free Soil Party in Missouri, which opposed the spread of slavery into new territories. When the situation worsened in 1861, Dick took his family back to Philadelphia and returned to St. Louis as adjutant general to Union Gen. Nathaniel Lyon.
"In the midst of this turmoil, Franklin Dick started to write his journals, never intending for anyone else to read them," Carter writes. "He began looking over the events of the previous nine months and recorded his introspective and outspoken views.
"His life had rapidly changed from that of an intellectual St. Louis attorney and businessman to that of an ardent Unionist in the midst of a turbulent Civil War."
Carter said her own knowledge of the Civil War tended to skew away from the Midwest and toward the eastern and southern battles, so reading Dick's journals was a revelation for her.
"Once I started, it was almost like a page-turner," she said. Even knowing the end of the story, "reading how he dealt with things, what was happening in his daily life, was just riveting."
Carter sought advice from the publishers of Civil War histories on how best to proceed with the book. Nancy Rediger, editor of Truman State University Press, "must have e-mailed me for six months, with different places to do research, a lot of really good suggestions. So those were the guidelines I used as I started, not doing too many footnotes, but doing enough that people would know what was going on."
She had a rude awakening when she sent the manuscript off, however.
"I was so naive," she said. "I'd never done any scholarly things. I'd done all these footnotes and all these references, but I hadn't done any page numbers or any of that." Ultimately she had to recheck every reference to appropriately footnote the volume.
The journals are but 2 of 10, bookending the war; the others were lost. In 1862 Dick was appointed provost marshal general for Missouri, "making him responsible for carrying out orders for banishment or assessment of disloyal persons and for overseeing the military prisons and dealing with prisoners," Carter writes. His correspondence in that role was preserved in the Library of Congress and makes up the center section of the book.
Enough additional correspondence remains that Carter expects to get another book out of it. But the journals and letters are of interest to her less as war artifacts and more as an individual's history.
"I've never been interested in the Civil War," she said. "I'm more interested in the personal part of it than the actual war and the battles. I'm more interested in what they experienced and how they went through it."
When she speaks to groups of Civil War enthusiasts, as she will this week, "it's interesting for me. They're the experts and I'm not. I've learned a lot from them."
---
Radio Interviews
Radio Interview On KWMU.org
2008 – St. Louis and the Civil War – A discussion about the role of St. Louis in Civil War history.
---
Radio Inverview on KSMU.org
2008 – Author Gari Carter is coming to Springfield to promote her new book about Missouri and the Civil War. KSMU's Kristian Kriner reports.
---
Quotes and Comments
David Goldfield, Professor of History, University of North Carolina, Charlotte
"A benefit to scholars and buffs alike, the journals of Franklin Dick offer readers a different perspective on the Civil War from the contested and bloody battleground that was Missouri. The diaries provide valuable insights on how Unionists reacted to the shifting fortunes of war in Missouri and in St. Louis in particular, and how the life of a St. Louis attorney-turned-provost-marshal changed for all time. The editing is helpful without being obtrusive, allowing Dick's personality to come through."
Comments On Talks
Comment from Rev. Maurice Smith, President, Highland Park Civil War Round Table, June 26, 2008.
Read Comment
"I would be happy to serve as a reference. I and a number of others in our CWRT really enjoyed your presentation. Of course it was of special interest because it involved a local personality in St. Louis during this important time in American history. I really appreciate the time and effort you put into your research. It shows a passion in your subject matter. I would recommend your program to any other CWRT group. If there's anything else I can do for you, please let me know.
Blessings, Mauri Smith"
---
Comments from Curt Wittbracht, past President, St. Louis Civil War Round Table, January 23, 2008
Read Comment
Gari Carter's presentation on her new book "Franklin Dick's Civil War Journal's" was very well received at the St. Louis Civil War Roundtable
She brought us back to the time, just before the start of civil war hostilities, when Southern sympathizers threatened to take over the City of St. Louis and loyal citizens were forced to protect the Union anyway they could. Her ancestor, Franklin Dick, was a central figure in these events working with Nathaniel Lyon and the Blair brothers, Franklin and Montgomery, as they secretly worked to save the city from the Confederate leaning State Militia.
It was most fascinating to learn how Nathaniel Lyon, borrowing Franklin's mother-in-law's dress, was able to scout out Camp Jackson and later return to overwhelm the camp and arrest the "secesh" thereby saving the City of St. Louis for the Union. Franklin Dick served with Nathaniel Lyon until his death and corresponded with Lincoln on affairs in Missouri during the War. Her story of Franklin Dick and his time in pre-civil war St. Louis is most interesting and is very well presented.
---
Comments from Bruce Patterson, Cape Fear Civil War Round Table, October 9, 2008
Read Comment
Gari, Dinner at "The Oceanic" is always special but particularly so when it is followed by an interesting and stimulating talk. Your talk was stimulating, interesting and indeed more. The lively question period following your presentation is illustrative of the interest you generated within the group. I am only sorry that the change of venue made our usual fellowship and conversation time impossible.
I spent some few minutes yesterday reviewing your book which I again found to be very professional. As I mentioned during dinner, the layout, photographs and graphics are extremely well done. You bring his journal to life. I'm sure that Franklin Archibald Dick would be very proud of his great-great granddaughter and the professional manner in which she published his important journals. Thank you for sharing it with us.
We are pleased to include you as an honorary member of the Cape Fear Civil War Round Table. Our new web site is www.cfcwrt.com . Please visit us often.
Respectfully,
Bruce Patterson
bppatterson@earthlink.net
Cape Fear Civil War Round Table
---
Comments from Mary Barnt, President, Peace River Civil War Roundtable, November 14, 2008
Read Comment
Gari Carter gave a very knowledgeable and interesting presentation. The close connection she had with her great-great-grandfather made the story come alive.
---
Quote from Ellen India, Outreach Librarian, Selby Public Library, Sarasota, Florida, March 9, 2009
Read Comment
Gari is a fascinating speaker with very distinctive and diverse stories to tell. Her remarkable struggle back from a debilitating car accident, with the help of her 11 year old son, would bring a tear to any eye. Her courage to not only make it through, but to excel when she healed, is very inspirational.
And to think that while she was in the process of healing, she wrote another book! Her meticulous research into Civil War journals that became Troubled State opened up a different viewpoint of the time, adding to the knowledge base.
Gari was a pleasant speaker who connected well with the audience as she took them on her journeys. Genealogists and Civil War buffs, as well as aspiring authors, would all find something to take away from her presentation.
---
Images from Gari Carter's Talks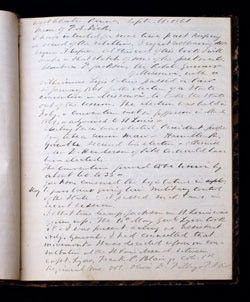 The first page of the first journal, where Franklin Dick writes that he has been meaning to keep a record of events for a while.
Photo credit: by R. L. Geyer
---
Order Troubled State
Troubled State – Civil War Journals of Franklin Archibald Dick,
by Gari Carter
ISBN # 9781931112741
250 pages, hardback
$34.95